Protein Powder 1 kg
$47.95
Myopure Whey Protein Isolate Powder is one of the most superior WPI protein powders on the market today. It is undenatured and sourced from dairy cows that live on and enjoy the lush pastures of New Zealand.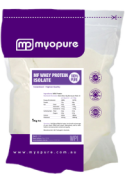 Available on backorder
Description
Why use NZ WPI(Whey Protein Isolate)?
The metabolic pathway for the digestion of protein releases a hormone in your body called glucagon.This hormone is a fat stripper. It literally signals your body to break down your adipose fat tissue. Great news for mamas like me who have gained a few kgs!
Whey protein has been touted as a slimming aid because it raises the glucagon in your body. Protein also slows the absorption of sugar from the blood stream. The body actually burns more calories when digesting protein rich foods and your thermogenic temperature rises in the process, speeding up your metabolism.There are so many protein powders on the market, how do I know what one to buy?Look for these things:
* Cross-flow micro filtered whey protein isolate or (CFM). It is the most undenatured form of whey available on the market. The native protein structures remain intact to a large degree by a cold-processed isolation method using ceramic micro-filters.* It should have 1 carb or less per serving and have no fillers or sweeteners. It is so easy to add your own.* It should have 1 gram sugar or less.Our Protein Powder 1 kg is a NZ Whey Protein Isolate sourced in New Zealand from cows that graze on green pastures. It is processed through cross flow micro-filtration & ultra-filtration to enable the protein to remain undenatured.
It has 0.9% fat, 0.7% carbs and 90% protein, it is ideal to use as a pre & post workout supplement and for those who just want to enjoy a healthy shake.Quality Assurance Strict quality control procedures are enforced during manufacture. The manufacturing environment is also subject to regular monitoring and control.
Final product is sampled and tested for chemical sensory and microbial parameters using internationally recognised procedures. During storage and shipment, precautions are taken to ensure product quality is maintained.
Additional information
| | |
| --- | --- |
| Weight | 1030 g |
| Dimensions | 170 x 65 x 280 cm |